Become a pastry chef with the EISF online course
You want to become a pastry chef ?
If you want to become an expert in French pastry but you don't or can't live in France. Here is some information and the solutions on the job of the pastry chef.
Do I have to follow a course to become a pastry chef ?
Pastry is a profession that requires the skills of a lot of techniques, professional gestures and strict compliance with health and safety rules.
Knowing how to make a French custard, cook sugar, making an entremets… all these professional skills require rigorous and complete training.
Pastry is internationally recognized as a French know-how. The pastry chef training program in France represents nearly 500 hours of training. It's about mastering all the professional techniques to make desserts, tarts, entremets and all the other pastries that make French pastry so famous.
Follow the EISF pastry chef online training course
It is possible to learn, online, all the techniques and the gestures to become a pastry chef.
You can even follow the course while continuing to work. This implies to devote 10 to 15 hours per week to your training course to finish your training between 6 to 9 months.
Here is what you will have to learn :
– All the notions related to hygiene and safety and the properties of the raw materials used in pastry that are presented in the theoretical module. Quizzes and assessments confirm the learner's knowledge as they work.
– The techniques and gestures, presented in high quality videos of recipes made by professional chefs.
– Experienced tutors confirm the work of the learner based on photos of the different steps of the recipe. Each learner has a dedicated tutor during their training which provides individual feedback to every student. *
– You get all the advantages of an online training course :
An Affordable training
Available whenever you want and from anywhere (computer, tablet or smartphone)
18 months to become a pastry chef at your own pace.
* Included only in the "complete package" of the training as opposed to the "solo" version.
This system has been working perfectly in France for nearly 10 years. The learner learns to reproduce the gestures of the trade, to apply the manufacturing processes, to know the properties of the raw materials and the equipment necessary for production.
Why join the EISF online pastry training course ?
The EISF is a 100% online training organization dedicated to French know-how in the food trades. It has been operating in France since 2015.
We have trained more than 5,000 learners. More than 1,700 of them took the official pastry, baker, chocolatier or cook exams with a success rate of 95 to 98% depending on the specialty.
The EISF is certified by the French supervisory authorities.
It offers online training courses to become pastry chefs, bakers, chocolate makers and restaurant chefs.
– You can learn all the recipes, master all the techniques.
– You can benefit from the advice from top pastry chefs, former Ferrandi trainers, for individualized monitoring throughout your training. *
Now, our pastry chef training course are available in English !
This is how it works :
– An online registration, at any time of the year, with no diploma requirement.
– Access to the educational platform for 18 months, 100% online and available 24/7 from a computer, a tablet, or a smartphone.
– Over 500 hours of instructional videos that covers more than 70 recipes of the French patisserie classics.
– Standard programs to help you organize your work. 2 recipes per week, you will have to approximately count a minimum of 6 months training.
– Chef support with Q&A, grading, and individualized constructive feedback *
– A possible termination throughout the course. **
– Payment in several installments with no additional fees.
* Included only in the "complete package" ** Under certain conditions
Watch the EISF's Paris-Brest recipe on video !
You will be able to appreciate the quality of our trainers
Pastry chef trainings requirements :
The EISF training program follows the program for the official French pastry chef exam
(CAP pâtissier). This is the training you need to be a pastry chef:
+ 70 recipes in instructional videos to learn all the secrets of French pastry.
+ 70 Step-by-step data sheets to practice and validate your know-how
+ 6-month or 12-month programs to prepare yourself at your own pace.
+ All the theoretical courses to understand the practical work.
+ Professional techniques, master the professional gestures and basic pastry techniques.
* Included only in the "complete package".
Courses and tutoring are now available in English.
The excellence of the EISF online support
EISF has chosen to surround itself with the best chefs to provide you with the best training possible.
It's not enough to have a diploma in Pastry, or even to be a Chef to be an instructor.
The EISF tutors all have a long experience in professional training in schools like FERRANDI or EBP (Ecole de Boulangerie et de Patisserie de Paris).
This double competency assures you a quality support, in accordance with the requirements of the profession and of our final exam.
You keep the same tutor for the whole duration of the training. *
You know him, he knows you. You progress together.
*Included only in the "complete package".
Rest reassured! You don't need to be a computer expert to quickly and easily learn how to use the platform.
Your workspace is a user-friendly training environment that adapts to your learning methods.
In one click, you can find your courses, your videos, your progress, and the follow-up of your tutor.
In one click, you can participate in the workgroup discussions and the learners' blogs.
In one click, you can download and print all the recipes.
A user-friendly educational platform that brings all together classrooms, practical laboratories, the library, and the cafeteria. Your entire school on your screen !
To guarantee you the best training, EISF has chosen the best partner, the American firm Cornerstone. Recognized for the efficient development of its solutions, Conerstone allows us to evolve within a vast, efficient and flexible workspace.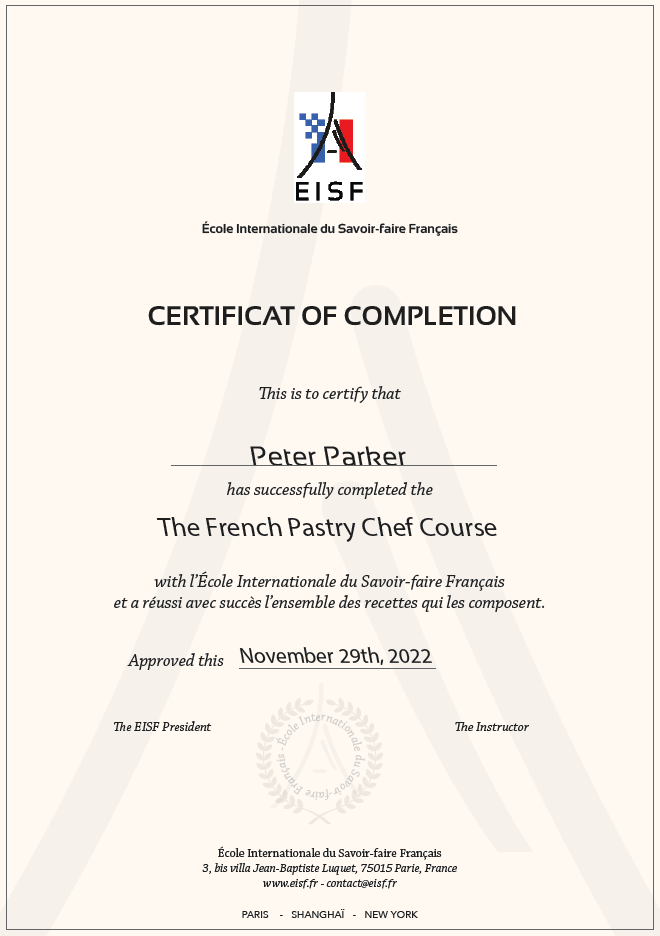 Do I need a degree to be a pastry chef ?
Pastry chef is a real job that cannot be improvised. It's not about just baking cakes for your family and friends. You must be able to master all the techniques of the professionals to make successful desserts in a shop or in a restaurant.
You cannot become a pastry chef without following a course! There is no improvisation on techniques and know-how. Creativity first requires mastering the basics. This implies training and certifying your skills with a reputable organization. You cannot be a Pastry chef without a degree.
The Smart Digital EISF Certificate is issued upon your success of the annual exam, something we are confident can be easily accomplished, because we will accompany you for the success of this course. Leave it to us to get you inspired and baking. We'll support you the whole way through!
Twice a year, the dates will be communicated to the student once registered to the course. *
* Included only in the « complete package ».
You will have a practical exam of 6 hours and a theoretical exam of 45 minutes, graded on a total score of 20, and your grade achievement will be stated on your certificate.
· Basic : grade between 10 to 12
· Proficient : 13 to 16
· Advanced : 17 to 20
Show off your success with your certificate!
Upon the successful completion of your pastry course and exam, you will receive a secure, certified, digital version of your certificate to share with recruiters, employers, and professional and personal networks.
With your Smart Certificate, you will be able to:
· Receive instant access to verified digital credentials.
· Store credentials in a secure, web-based platform.
· Share credentials across social networks, such as LinkedIn, and via email.
· Prevent fraud and make having additional copies of certificates easier and more accessible.
Pricing options
Pay in 18 installments of

100 €

/

$

USD.
(0% interest)
18 months access 100% online and available 24/7
All the professional theory: courses, trivia quizzes
All the professional practical work:
recipe sheets, step-by-step and instructional videos
Technical assistance
Internal student community
Certificate upon completion
COMPLETE PACKAGE:

3 600 €
Pay in 18 installments of

200 €

/

$

USD.
(0% interest)
18 months access 100% online and available 24/7
All the professional theory: courses, trivia quizzes
All the professional practical work:
recipe sheets, step-by-step and instructional videos
Technical assistance
Internal student community
Smart Digital EISF Certificate
Personalized follow-up with the same experienced instructor
Mock exams via the platform
Pastry chef professional equipment
With an online chef pastry training, you're working at home, but in a professional manner! This is the list of your professional equipment:
Utensils
1 chef's knife
1 peeler
1 utility knife 10cm
1 stainless steel triangle 10cm
1 stainless steel blade spatula 17cm
1 stainless steel blade spatula 23cm
1 saw knife
1 plastic spatula 22cm
1 plastic spatula 28cm
1 whisk
1 plastic spoon spatula
1 dough scraper
1 electronic thermometer
1 set of plain nozzles
disposable pastry piping bags
1 pastry brush
2 plastic pastry scrappers
1 french rolling pin
1 pair of scissors
1 pair of pastry crimpers
1 flour sifter
1 culinary torch
Recommended kitchen equipment
A mixer anterre with a whisk, hook & flatbeater
An electronic food scale
1 tart ring Ø22cm
1 stainless steel cake ring Ø16cm
1 stainless steel cake ring Ø18cm
1 square cake ring (25cmx25cm)
1 removable bottom cake mold Ø22cm
1 parisian brioche mold of 14cm long 5cm high
5 small Parisian brioche molds
1 brioche anterre mold (or cake mold)
8 baba molds Ø4cm and 6cm high
8 savarin (cork) molds Ø8cm and 1.8cm high
1 round cake mold Ø20cm
financier or muffin molds
madeleine molds
Professional outfit
1 chef's jacket
1 professional apron
1 chef's hat
1 pair of chef's pants
1 pair of non-slip safety shoes
Why become a pastry chef ?
You're wondering how a pastry chef works? Specializing in desserts, the pastry chef makes various kinds of :
Cakes
Desserts
Chocolates
Pastries
To make his recipes, the pastry chef mainly uses flour, dairy products, fruit, sugar, and chocolate. Pastry chefs only puts yeast in yeast dough to make croissants or brioches.
Being a talented pastry chef has many benefits. You always have work. You work in a pastry shop, but you can also work in a restaurant or a hotel. You can choose to travel by settling overseas.
Pastry is teamwork, rigorous and creative. By offering his desserts, the pastry chef offers more than just a good dish. He is generous and brings pleasure and joy to all the guests.
The job is demanding but the work gives great satisfaction and recognition. Pastry chefs are respected and listened to. The fame of the greatest goes beyond borders. Pierre Hermé works as much in France as in Japan. Cédric Grolet's pastries at Le Meurice in Paris are sought after by all foreigners visiting Paris.
Today, pastry chefs must open up to new paths by learning to make desserts based on healthy products, less sugar, les fat, pay more attention to raw materials such as fruit or new flavors. Pastry evolves while always remaining based on the basic techniques and the gestures of the professionals.
What does the pastry chef do ?
Pastry Chef leads the production and presentation of pastries and baked goods including sourcing, purchasing, inventory, and cost control.
Develops and tests recipes and sources ingredients to create unique pastries and baked goods. Being a Pastry Chef creates dessert menus that complement meal offerings, appeal to diners, and maximize profits.
Follows all applicable guidelines and regulations for food handling and safety. Additionally, Pastry Chef maintains a clean and orderly workstation and kitchen equipment. May require an associate degree in culinary arts or equivalent.
Typically reports to an executive chef. The Pastry Chef supervises a small group of para-professional staff in an organization characterized by highly transactional or repetitive processes. Contributes to the development of processes and procedures. To be a Pastry Chef typically requires 3 years' experience in the related area as an individual contributor. Thorough knowledge of functional area under supervision.
What are the skills of a pastry chef ?
The pastry chef creates the various basic recipes of his profession (pastries and desserts according to the type of shop or restaurant).
He prepares the multiple doughs and fillings needed to make the desserts. He follows the different recipes, respects the proportions, the cooking time, the temperature and masters their realization. Once the different recipes have been made, he takes care of the presentation so that his preparations are appetizing and visually attractive.
Finally, the pastry chef, in addition to making pastries, must also take care of the management of stocks of raw materials (inventory creation, placing orders with suppliers, etc.) and the customers who must be accompanied and advised.
Pastry chef and baker differences
Although they often work together in the same shop, a pastry chef and a baker do not do the same job.
The pastry chef prepares individual desserts or large cakes (entremets) that will be sold in the shop or served in the restaurant. He develops recipes that vary according to the seasons with the availability of fruit and major events such as Easter, New Years and Thanksgiving.
The baker prepares the bread that accompanies meals, such as at breakfast, when making sandwiches or for dinners. He follows the same recipes every day to bring regularity to his production. He can create new breads, but these products come in addition to his regular production.
Pastry chef or culinary chef ?
The pastry chef can work in the kitchen of a restaurant. He collaborates with the chef to elaborate menus. But in many restaurants, the chef is also the one who prepares the desserts on the menu.
Only in large restaurants are made up brigades of chefs and pastry chefs. In this case, they collaborate to create menus whose flavors and values are in harmony.
Pastry chef or confectioner – candy maker
The confectioner makes candy recipes from sugar such as caramels, fruit jellies, marshmallows.
The pastry chef works to make desserts. These two professionals can collaborate on joint projects such as mounted pieces or sugar decorations for big ceremonies such as birthdays or weddings.
Pastry chef or chocolate maker – chocolatier
The chocolatier develops his recipes from chocolate and products from the cocoa tree. He makes sweets, products made from pastes such as praline or gianduja.
Chocolate work is very technical. It must be prepared before making the recipes. This preparation is called tempering. This raw material also makes it possible to produce mounted pieces or spectacular decorations.
The pastry chef uses chocolate to decorate his desserts. He uses the properties of chocolate to vary the presentation of his creations.
Pastry chef salary
How much does a pastry chef make in the USA ?
The average pastry chef salary in the United States is US$55,000.
Salary ranges can vary widely depending on many important factors, including education, certifications, additional skills, the number of years you have spent in your profession.
How much does a pastry chef make in Canada ?
The average pastry chef salary in Canada is CAD$39,000 per year, while most experienced workers make up to CAD$50,700 per year.
What can I earn as a pastry chef in Australia ?
The average annual salary for pastry phef jobs in Australia ranges from AUD$60,000 to AUD$70,000.
The EISF is a 100% online training organization dedicated to french know-how in the food trades.
It has been operating in France since 2015.